Welcome! We are delighted that you are considering Magic Years Nursery School for your child's educational beginnings.
Private Tours available for families with children eligible for fall 2014
At Magic Years  children are allowed to discover and develop their talents to fulfill their potential.  In this first important step outside of home, your child should begin to trust others, learn to get along in a social setting, and build a sense of assurance as an individual person.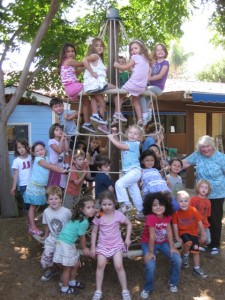 The best way for you to decide if Magic Years Nursery School is the right fit for your child is to visit our school. We encourage you to attend one of our Prospective Parent meetings to gain a better understanding of who we are and what we have to offer.
It will be our pleasure to guide you as you get to know our school better and as you go through our enrollment  process. Please do not hesitate to call with any questions.   You can also visit the enrollment process webpage which lists the necessary steps to take to enroll to the Magic Years Nursery School.
ABOUT THE DIRECTORS
Mary Campbell, B.A. Phi Beta Kappa, Stanford University, Fulbright Scholar to England. Certificate in Education and Administration, Center for Early Education. Forty five years experience working in Early Childhood Education.
Alice León, B.A. and Master's degrees from U.C. Berkeley. Recipient of the Cervantes award at U.C. Berkeley. Certificates in Early Childhood Education and Administration from UCLA. Twenty two years experience working in Early Childhood Education.