Welcome! We are delighted that you are considering Magic Years Nursery School for your child's educational beginnings.
We are currently enrolling children for the 2014-2015 school year, and we do not want you to miss the opportunity to have your child at Magic Years.

The Magic Years Nursery School is founded on the belief that the pre-school years are critical in a child's physical, intellectual, and emotional growth.  We offer a nurturing environment in which children do exciting art and cooking projects, participate in singing and body movement through group activities, and play in a beautiful back yard with an impressive variety of equipment.  Our well-trained and experienced teachers are early-childhood education specialists.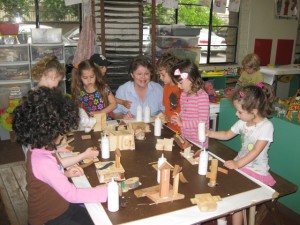 Magic Years is a developmental, project-based nursery school in which social skills, the development of the whole child, and learning through play are emphasized.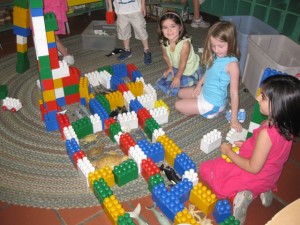 With a hands-on approach to learning, children learn science and mathematical concepts through gardening, experiments, and baking projects.  Spanish is taught through music, movement, and games.  Literacy activities include story time, flannel boards, story dictation, and office play.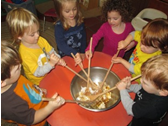 In the summer Pre-K program, children do extensive woodworking projects.  They take home their very own scooters and their very own toolboxes which they have made.  They make their very own scooters and toolboxes!!!
We have a gradual separation policy, which means that you, a relative, or a nanny would stay with your child while he/she is getting comfortable at school.
 If you have not had a chance to attend one of our Prospective Parent Meetings, be sure to sign up for one now.  During the meeting, you will learn about the history of the school, the philosophy, the activities, the staff, and our gradual separation policy.  You will also have the chance to observe classes in session and tour the school. 
It will be our pleasure to guide you as you get to know our school better and as you go through our enrollment  process. Please do not hesitate to call with any questions.   You can also visit the enrollment process webpage which lists the necessary steps to take to enroll to the Magic Years Nursery School.
ABOUT THE DIRECTORS
Mary Campbell, B.A. Phi Beta Kappa, Stanford University, Fulbright Scholar to England. Certificate in Education and Administration, Center for Early Education. Forty five years experience working in Early Childhood Education.
Alice León, B.A. and Master's degrees from U.C. Berkeley. Recipient of the Cervantes award at U.C. Berkeley. Certificates in Early Childhood Education and Administration from UCLA. Twenty two years experience working in Early Childhood Education.