The Magic Years Nursery School was founded in 1965 upon the belief that the preschool years are critical in your child's physical, intellectual, and emotional growth. In this first important step outside of home, your child should begin to trust others, learn to get along in a social setting, and build a sense of assurance as an individual person.
The emphasis at Magic Years is socialization and learning through play with exposure to academics through an informal and fun approach.  One of our principle goals is to foster creativity and instill an excitement about learning.  We have a gradual separation policy in which the teacher works with the parent as to how and when the separation should take place.  Each separation is done on an individual basis taking into account the needs of each particular child.
Balance is a key word for The Magic Years Nursery School: balance between individual and group experience, between free play and structured activity, between small and large muscle development. Freedom is stressed, but within limits imposed by concern for the group. A warm and supportive atmosphere is supplied by trained and sensitive teachers working with small classes.
Activities include sand and water play, clay and playdough, painting and collage work, blocks, dramatic play, cooking, music, stories, and a wide variety of outdoor play.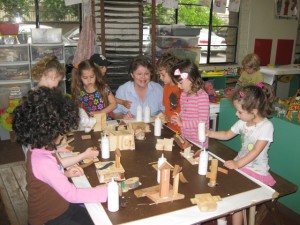 Singing, musical instruments, body movement and dancing as well as children's stories are all a part of the group-time experience.  We have an absolutely beautiful, exciting backyard play area that includes wheel toys, unique climbing equipment, sand play, swings, a large grass area, and a play house.  There is ample shade provided by mature trees and awnings.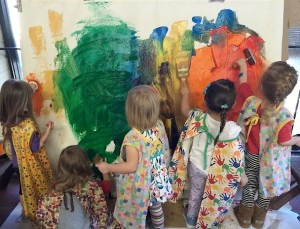 The Magic Years Nursery School continues to remain true to the standards and beliefs that it was founded upon in 1965; the traditions that have served so many, so well.
ABOUT THE DIRECTORS
Mary Campbell, B.A. Phi Beta Kappa, Stanford University, Fulbright Scholar to England. Certificate in Education and Administration, Center for Early Education. Forty five years experience working in Early Childhood Education.
Alice León, B.A. and Master's degrees from U.C. Berkeley. Recipient of the Cervantes award at U.C. Berkeley. Certificates in Early Childhood Education and Administration from UCLA. Twenty two  years experience working in Early Childhood Education.