Magic Years Nursery School: I truly couldn't ask for any better!
I have one child in Magic Years' Nursery School and one in the Toddler Program, and I feel extremely grateful to have found such a beautiful place to begin my children's' social and educational paths.
The programs provide nurturing and compassionate care, while fostering exploration, confidence and independence. The activities are age-appropriate, thoughtful and enjoyable, and the teachers are kind, experienced and dedicated to the children.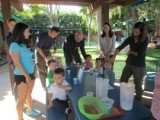 The gradual separation policy that is implemented in the nursery program has been an absolute gift for my child who is an introvert and often uncomfortable with new people and places. With a little time, and lots of attention and gentle encouragement from his teachers, he has overcome his fear of separation, and feels more comfortable socializing with his peers.
He enjoys going to school and brings home heartwarming stories about baking with his teachers, learning new songs and playing in "The Big Backyard".
I truly couldn't ask for any better.
Magic Years is a wonderful school!
The teachers truly care for every child and are nurturing, loving, caring, and patient. They give individual attention to each child, and help to build self-confidence. My son is so lucky to play with delicious- smelling, home-made play dough, dramatic-play toys, sing songs, listen to stories, and visit with Sunny and Cloudy the bunny!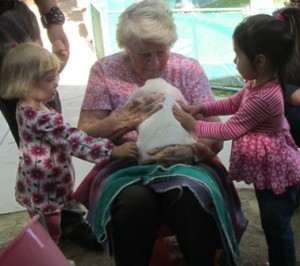 He also loves playing in the beautiful "big backyard" on the climbing equipment of various levels, in the sand box, and scooting around with his friends. Recently, I've participated in their toddler program and my younger son loved making crafts projects: painting with trucks' wheels, gluing on a collage, painting with water color.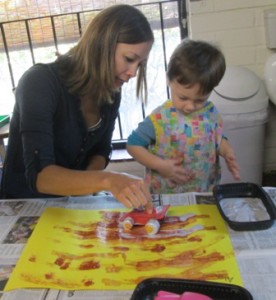 He can't wait to start preschool himself! I feel very lucky to have been able to attend Magic Years when I was a little girl, and am delighted to watch my sons enjoy themselves at Magic Years too!
Thank You for a Wonderful Program
Jagger had the best time in the toddler program. He asks me daily to go back to Magic Years. We look forward to the fall. Thank you for putting such as wonderful program together. Our very best, The Malinovitz family.
Magic Years offers a really great Toddler program!
We spent our Saturday mornings meeting other kids my daughters age and their parents. The morning started with independent play and "art projects" which my daughter LOVED! All the art projects are now proudly displayed on her bedroom door and she shows them off to anyone that enters our house!
Next came song, dance and book time with the group – this was a fun time for interacting with the other kids and parents – my daughter couldn't help but dance to the fun songs they sang and played.
To finish the morning we would head out to the Big Back Yard! She had a blast out there with the swings, balls, climbing and bouncing structures and seeing Sunny and Cloudy (the bunnies), who always put a smile on her face.
Magic Years is a cozy, warm and loving place and we feel fortunate to have found it. We can't wait to start preschool here.
Warmly,
Janey Strouse
My daughter is 23 months old and just completed the Magic Years Nursery School Saturday morning toddler program, and we loved it! Upon arriving at our first class, my daughter toddled over the "sensory tub" filled with cornmeal and small objects. Within a few minutes she wanted to scoop up the cornmeal and dump it on the tile floor. In spite of her determinism, Mrs. Leon effortless explained why we need to keep the cornmeal inside the tub and my daughter magically complied. I was in shock! Mrs. Leon and her staff have a very special style of interacting with young children. They are gentle, rational, respectful and unconditionally patient. As a first time parent, I would 1,000% recommend this nurturing nursery school.
Posted 3/9/2015